You may have heard of
"Long Way Round"
. A couple of celebrity actors, Ewen McGregor the Jedi knight and Charly Boormen, riding their motorcycles across several continents.
But are there
real people
who are doing it?
I mean real actual riding without a whole caravan of logistic vehicles behind you to bail you out?
Real people who are not millionaires?
Real people who can do this thing even better?
Meet my friend Yarets. He is from Minsk (Belarus), formerly USSR.
I tell you why he is better?
1. He has rode his motorcycle alone to over 40 countries!
2. He has been left his home and been riding eversince, 2000. That is 8 years!
3. He is 67 years old.
4. He is deaf and mute.
And he is in Singapore now.
This is your chance to catch him before he lives Singapore.
Where Yarets has been
The map shows where this remarkable man has ridden to:
42 countries and still counting (42th is Singapore):
He has been to s0 many places I have never heard of.
The Man and His Bike
This is what 67-year old Yarets look like now:
This is his bike:
Yes, not another BMW. A single cylinder 650cc BMW.
Note his bike's side "panniers"--actually a pair of suitcase.
They are Samsonite.
Yarets did not always look like what he looked like now.
In fact, he did not even started off with a BMW.
This is what he looked like then, when he first started on his russian bike.
Then, he met an accident when in America. He was seriously injured. And his bike was badly damaged.
BMW kindly donated him a new bike.
His Local Host: Moto-V, Singapore
I am part of the Moto-V community (http://www.moto-v.sg). Moto-V is a motorcycling enthusiast community in Singapore.
By chance, one of us met him in Singapore. At first, we didn't know much of his story. We just wanted to help when we know of a fellow motorcyclist who is all alone in Singapore and seemed kind of lost. So we played host to him during his current stay in Singapore.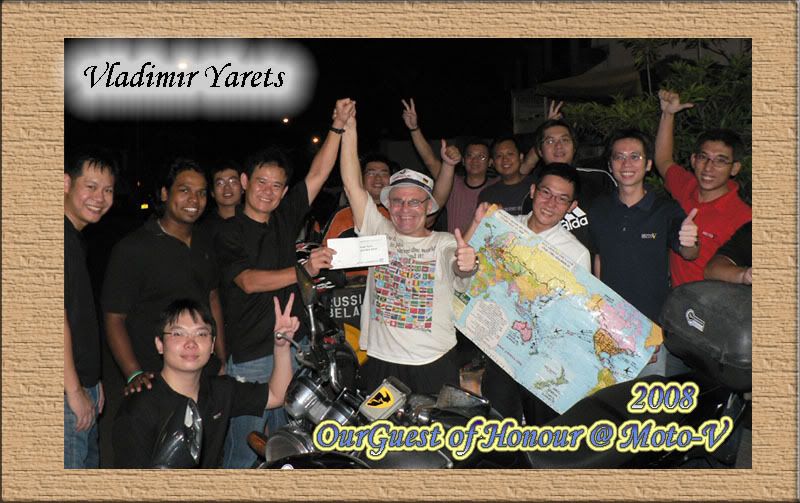 We hanged out with him and keep him company:
Sometimes, I wonder what does Yarets do for a living (before he left his home).
He dress simply. And his bike looks weary and tired from its long trip.
But he never ask for money from us.
Why is he doing all this for?
The Man and His Mission
Once, I forgot. I saw him from a distnace and I called out to him, "Hi, Yarets!".
But he did not hear me and just walked past by me.
And he can't speak. But this is why he is doing all this:
Some of What We are Doing to Help Him
We noticed that the spectacles he was wearing was broken.
I helped to chip in and buy him a new frame (he preferred to keep his lens).
Photo above is Yarets at the spectacle shop, with the spectacle shop person (left) and my moto-v buddy, Spectrum (right).
We also noticed his bike's fog lights are not working anymore.
So we decided to get him a new pair of fog lights.
Liew, one of the moto-v members, helps to fit the new fog lights.
New fog lights are working!
Yarets look pleased!
The foglight was supplied by Anadoise of moto-v.
Anadoise works for Hella and he has managed to get his company to sponsor the lights.
Yarets decided to express his gratitude by sticking the Hella logo on his bike.
Yarets Going On TV
Another thing we want to help him with. We want to tell Singapore and the rest of the world, of this brave and remarkable man, Yarets.
Again, by chance or the work of God, one of the Moto-V members happened to tell a friend of Yarets and this friend works for MediaCorp, the TV station of Singapore. The friend agreed to feature Yarets in one of the station's programme.
Here's how we shoot Yarets on the move: We put the camera man on one of our bikes.
How You Can Catch Yarets
Yarets is thinking of leaving Singapore in May 2008.
As he is not on a fixed schedule, he might leave later, or he might leave tomorrow.
Here is your chance to catch him in person before he leaves Singapore.
In Person


Go to Peace Center, along Selegie Road.
He is there everyday from 6 pm to about 7.30pm.
Yarets outside Peace Center, next to the MacDonalds, along Selegie Road.
He wants to share with people his story and inspire people.
Go support him!
Your chance to take a picture with Yarets!
Website


You can read up more about him at:
Yaret's very own website:
http://www.yarets.com/index_eng.html
Yarets in Singapore at Moto-V website:
http://www.moto-v.sg/forums/index.php?showtopic=973&pid=24968&st=0&#entry24968
On TV


18th April, 2008. At 10.30 pm.
MediaCorp, Channel 8, 前线追中 (Frontline).
Maybe you will see me being interviewed :)
Here's to Yarets. Dare to Dream and Go Do It